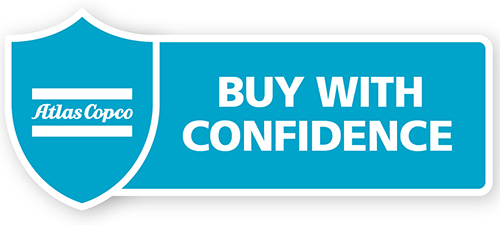 Customer Focused
Our vision is to offer and remain first in mind and first in choice. Our sales and support teams are fully focused on making sure your needs are met and your orders are the number one priority.
Quality Products
Atlas Copco is proud to manufacture reliable products with energy efficiency and prime performance our top goals.
Products to Suit
Atlas Copco boasts a wide product range to suit almost any application of any size and a team of compressed air experts to help you find your complete solution.
Aftersales
Once you have your products our service and support doesn't stop there with over 80 service engineers and a nationwide distribution network ready to offer maintenance and service support on all your compressed air equipment (including other models/makes).
An Easy Experience
The Compressor Store is designed to ensure the quickest and easiest experience for you to get the Atlas Copco items you need. We understand the importance of receiving your products on time and we guarantee to do our utmost to provide you with what you need when you need it.
Store Support
Our store support team are available to assist from Monday to Friday, 9 am to 5 pm through a variety of channels such as live chat, email or phone dedicated to The Compressor Store and assisting you.
Technical Expertise
Access to technical information is available on each of our products and multiple technical in house support teams are here to support you when you need assistance.
Keeping You Updated
Atlas Copco can keep you updated with the latest information, new products and offers via our customer portal and our Fresh Air newsletter which you can sign up for here.