Description
Power Your Workshop
Boosts Productivity and Lowers Operational Costs
Direct drive electric motor with built-in overload protection for maintenance-free operation.
Powder-coated and certified air receiver with manual condensate drain device.
Adjustable pressure regulator with dual pressure gauges (receiver pressure and regulated outlet pressure) with quick coupling for ease of use.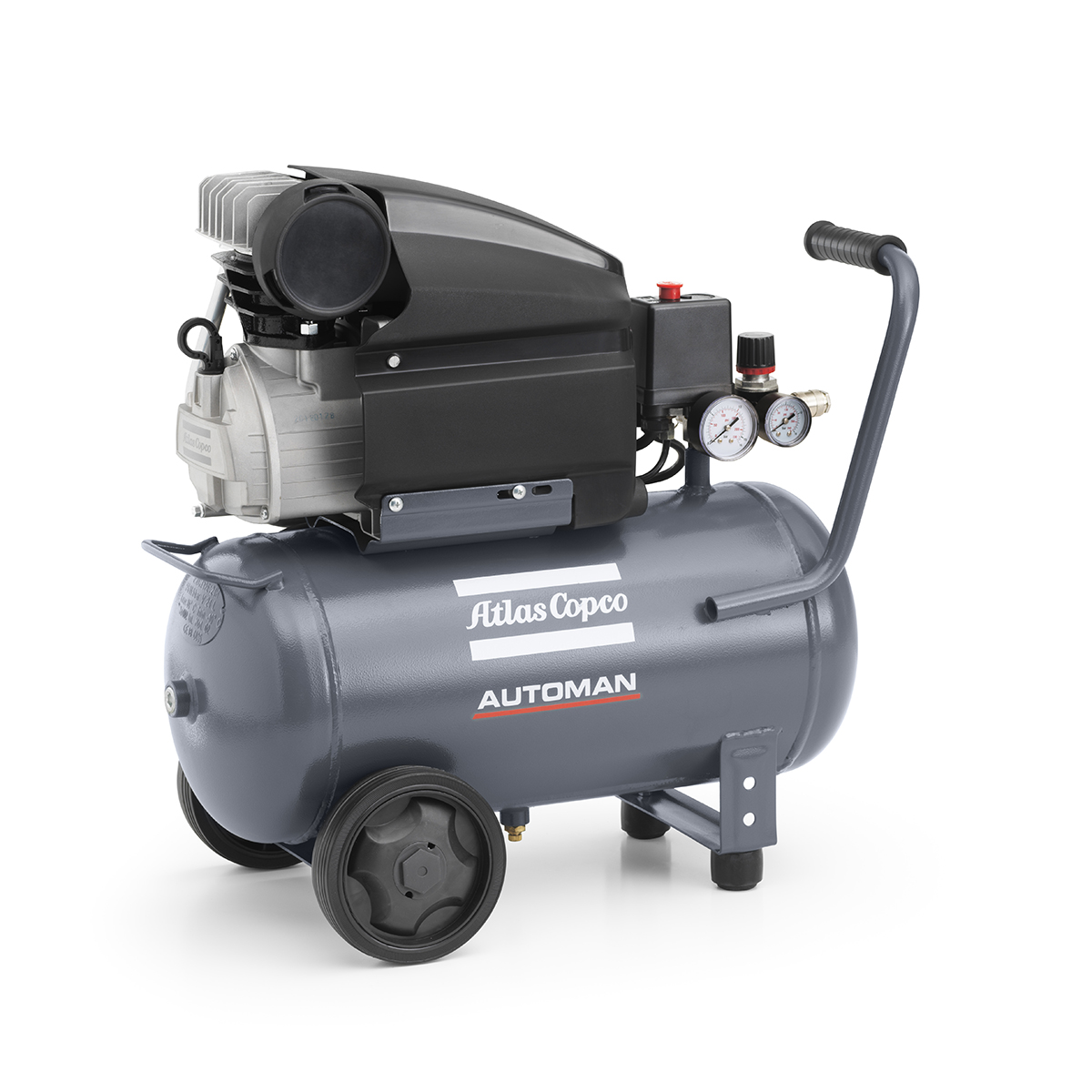 Robust wheels and handle, according to the model, for mobility.
Pressure switch with "Off" and "Automatic operation" buttons, safety valve, cable and power plug.
Technical Specification
Every bit of useful information in one place
Installed Power (hp, kW): 2.5, 1.85 
Piston displacement (l/s, cfm): 250, 8.8 
Free Air Delivery (l/s, cfm): 122, 4.3 
Maximum Working Pressure (bar.g , psi.g) – 10 , 145 
Electrical Supply Rating (Amps) – 8.8 
Electrical Supply (Voltage / Phase) – 230V / Single Phase
Rpm: 2850 
Cylinders & Stage: 1 & 1 
Receiver (l): 50 
Mass (kg, lbs): 22, 48 
Noise Level (dB(A)): 82
The complete compressed air package
By Atlas Copco
Automan compressors are built to provide maximum safety for the user. They require minimal space, are easy to manoeuvre, and are supplied as a complete ready-to-use system.
AF series oil-lubricated compressors are designed for mobility and ease of use.  The compressor block is manufactured from high-grade aluminium alloy – a material also used in high-performance car engines. Its excellent heat transfer capability and high tensile strength makes it especially suitable in a compressor because of its high performance/low weight ratio.
Ideal for workshops, body shops and small industrial users.