Description
Power Your Workshop
Boosts Productivity and Lowers Operational Costs
The G5 Full-Feature (FF) oil-injected screw air compressor provides an energy-efficient, reliable workplace air compressor that has long been the preferred air solution for small and medium-sized businesses.
Atlas Copco's OSC range offers state-of-the-art adsorption-based condensate management.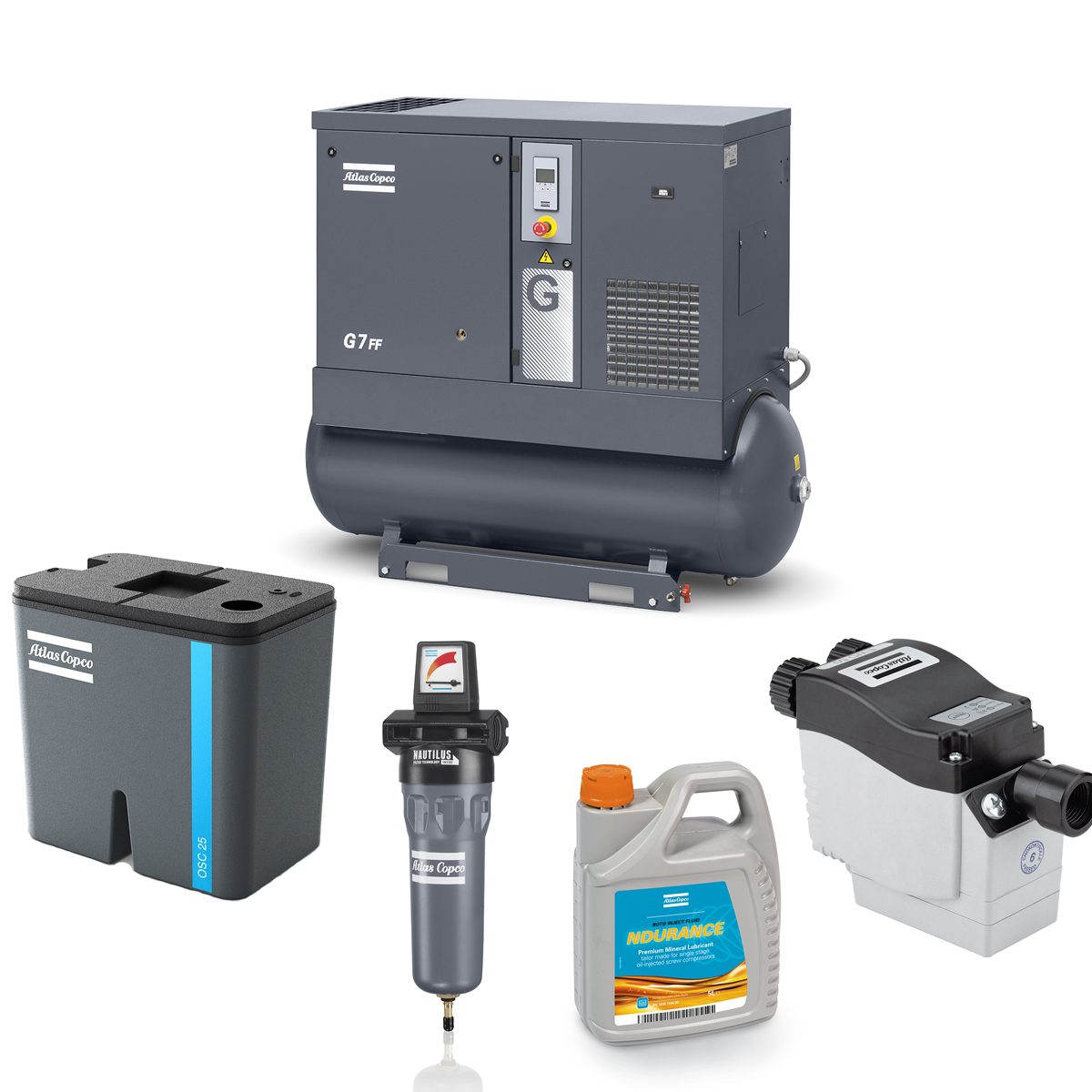 The Atlas Copco EWD range offers safe, dependable and efficient condensate drainage.
Atlas Copco's Roto Inject NDURANCE Oil is a mineral-based oil specially formulated to protect your rotary screw compressor.
UD+ Filters reduce oil aerosol, wet dust and water drops in your compressed air stream to protect your equipment and processes.
Technical Specification
Everything you need to know about the G7-FF
Compressor Type (50Hz) – G5
Max Working Pressure (bar e, psig) – 10, 145
Capacity FAD (l/s, m3/hr, cfm) – 13.0, 46.8, 27.5
Installed Motor Power (kW, hp) – 5.5, 7.5
Standard Air Receiver Size (L, gal) – 200, 60
Noise Level (dB(A)) – 65
Weight (kg/lbs) – 210/463
Dimensions (DxWxH mm) – 665 X 1430 X 1260
Outlet Connection Size: G1/2" 
Electrical Supply (Compressor) – 400V / 3 Phase
Electrical Supply (Dryer) – 230V / Single Phase