Description
Supply Your Surgery
100% Clean & Zero Oil Free Air

IE3 premium-efficiency motor lowers energy use and costs.
The low-vibration screw element minimizes noise to allow installation close to the point of use.
Integrated refrigerant air dryer. Wet vessel to ensure a lower load on the dryer.
Elektronikon® Base controller gives you easy, intuitive control. Service indications and visual alerts safeguard performance and reliability.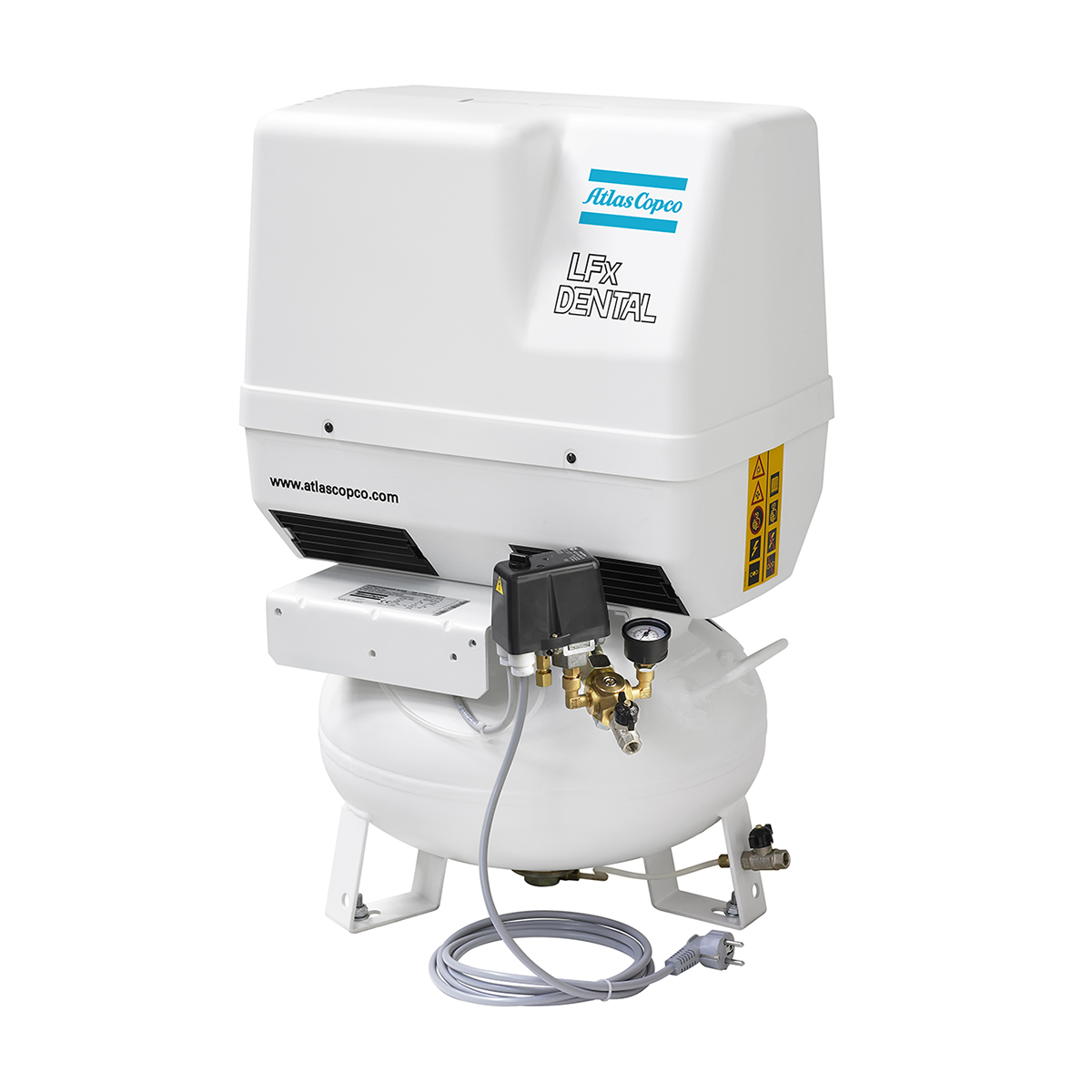 A tank-mounted model with varying receiver sizes available.
A refrigerant dryer can be fully integrated to ensure dry, quality air without taking up extra space.
Timer and electronic drains are available for maximum peace of mind.
Prevent condensation at low loads and improve reliability with the optional oil heater.
Technical Specification
Every bit of useful information in one place
Maximum working pressure (bar, psig): 10, 145
FAD @ 50 Hz (l/s, m3/min, cfm): 1.02, 0.06, 2.16
Installed motor power (kW, hp): 0.55, 0.7
Noise level (dBA): 61
Electrical Supply (Voltage / Phase) : 230v / 1ph
The complete compressed air package
By Atlas Copco
Automotive-style cylinders made of high silicium aluminium alloy with low tolerance finishing for extremely low clearance and minimized friction.
Direct drive eliminates transmission losses.
Industrial unloader valve:
Designed to withstand extreme conditions and high working pressures.
The unloader valve reduces starting torque for a longer compressor and motor lifetime as well as limited strain on the electricity net.
Single electrical connection for easy, plug-and-play installation.
A wide range of air treatment devices is available to meet air purity levels as required by ISO 8573-1 2010.
Highest quality components:
Heavy-duty sealed-for-life ball bearings selected for continuous duty and long lifetime.
Die-cast aluminium crankcase and finned cylinder heads with high cooling characteristics, for a long lifetime and efficient operation.