Description
Superior Running & Performance
High Resistance against pollution & high temperatures
Resistance against heavy pollution, high operating temperatures and high humidity protect the compressor from oxidation, leading to a longer drain interval: up to 4 000 h or 1 year in mild ambient conditions.
Perfect Sealing & Anti-Wear Properties
Anti-wear additives are developed to protect the rotors and bearings during operation, preventing metal-metal contact of critical parts. Will also prevent air leakages in the element.
Protection Against Corrosion
Roto Inject Fluid NDURANCE separates easily from water, maintaining original lubricant properties. This ensures that water is kept out of the oil circuit, avoiding corrosion on the metal parts.
Oil System Free of Deposits
High oxidation resistance of the base fluid in combination with specially designed antioxidant additives will avoid formation of lacquer or sludge when operating in specified conditions. This reduces contamination in the oil separator that would lead to pressure drop or blocking of valves.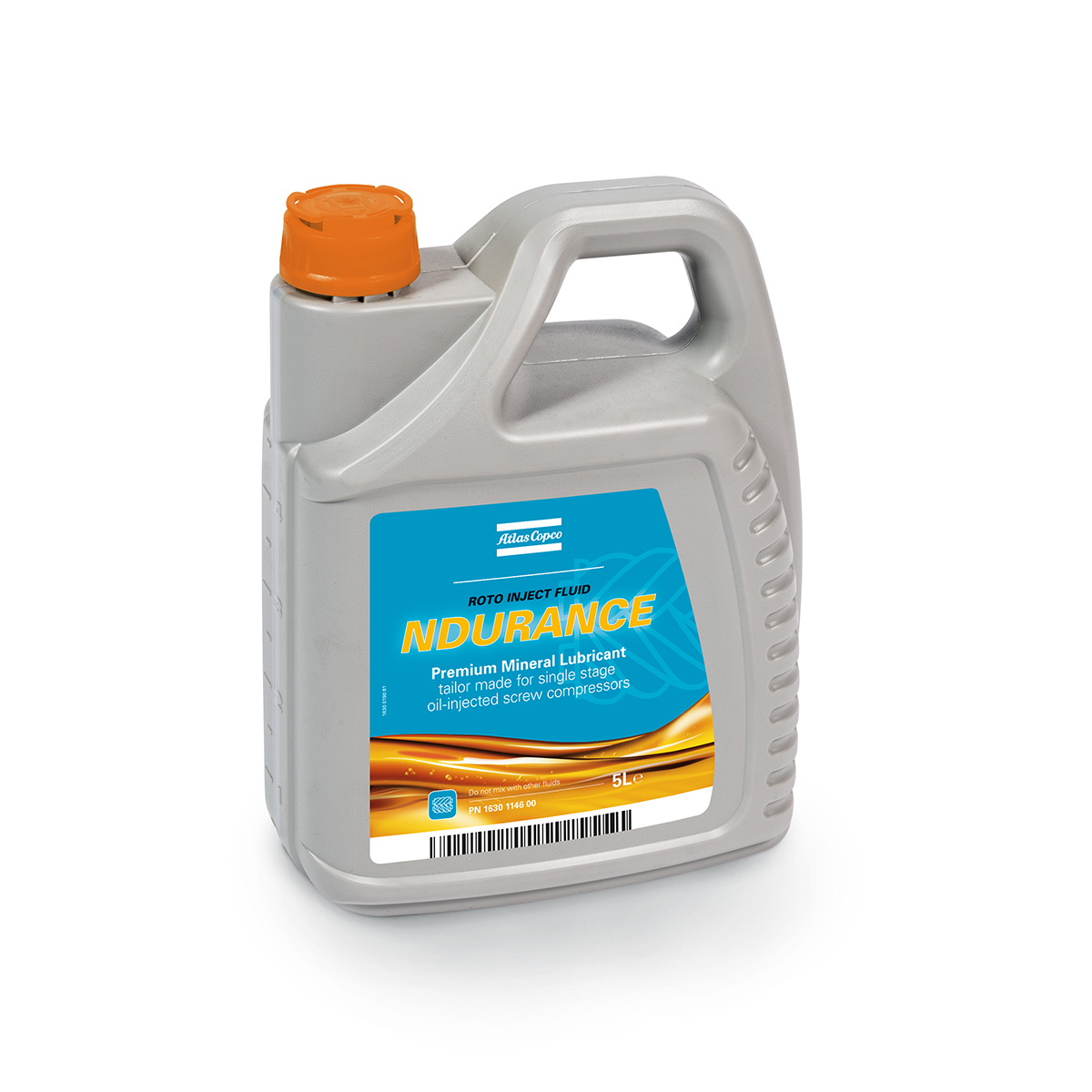 Good Demulsifying Properties
Roto Inject Fluid NDURANCE separates easily from water, protecting the system from emulsions. Enables the optimum performance of the Atlas Copco OSC & OSD treatment devices.
Good air release properties make sure the air is efficiently separated from the lubricant without foaming. Increases the efficiency of your compressor by avoiding pressure drops in the separator element.
Tuned lubrication that guarantees the correct oil film during operation. Full protection of the moving parts at a wide spread of operating conditions.
Volatility & Oil Consumption
Premium mineral base fluid containing fewer volatile components. Reduces oil carryover compared to typical mineral compressor oil.
Technical Specification
Every bit of useful information in one place
Lubricant Characteristics
Density @ 15°C : 0.87 kg/dm3             (ISO 3675)
Viscosity @ 40°C: 55 mm2/s               (ASTM D445)
Viscosity Index: 106                             (ASTM D 2270)
Foam Stability: 0/0/0 ml                     (ASTM D 892)
Total acid number: 0.1 mg KOH/g     (ASTM D 974)
FZG fail stage: 11                                  (ISO 14635-2)
Rust test: Pass                                      (ASTM D 665B)
Pour point: -33 °C                                 (ASTM D 97)
ID Card
Oil type: Mineral-based lubricant
Service intervals: 4000h or 1 year at mild ambient conditions
Mild ambient conditions: Ambient temperature range from 0°C to +30°C and dusty environment or ambient temperature range from 0°C to +30°C and humid environment
Maximum operating pressure: 13 bar
Equipment: Atlas Copco single stage oil-injected screws
Compatibility: GA, GX & G compressors
Appearance: Colourless to straw pale yellow, transparent