Description
Power Your Workshop
Boosts Productivity and Lowers Operational Costs
Slow-running compressor block with aftercooler for effective moisture separation and automotive dry paper type air cleaner on the larger models.
Adjustable pressure regulator, pressure gauges (receiver pressure and regulated outlet pressure), quick coupling for ease of use.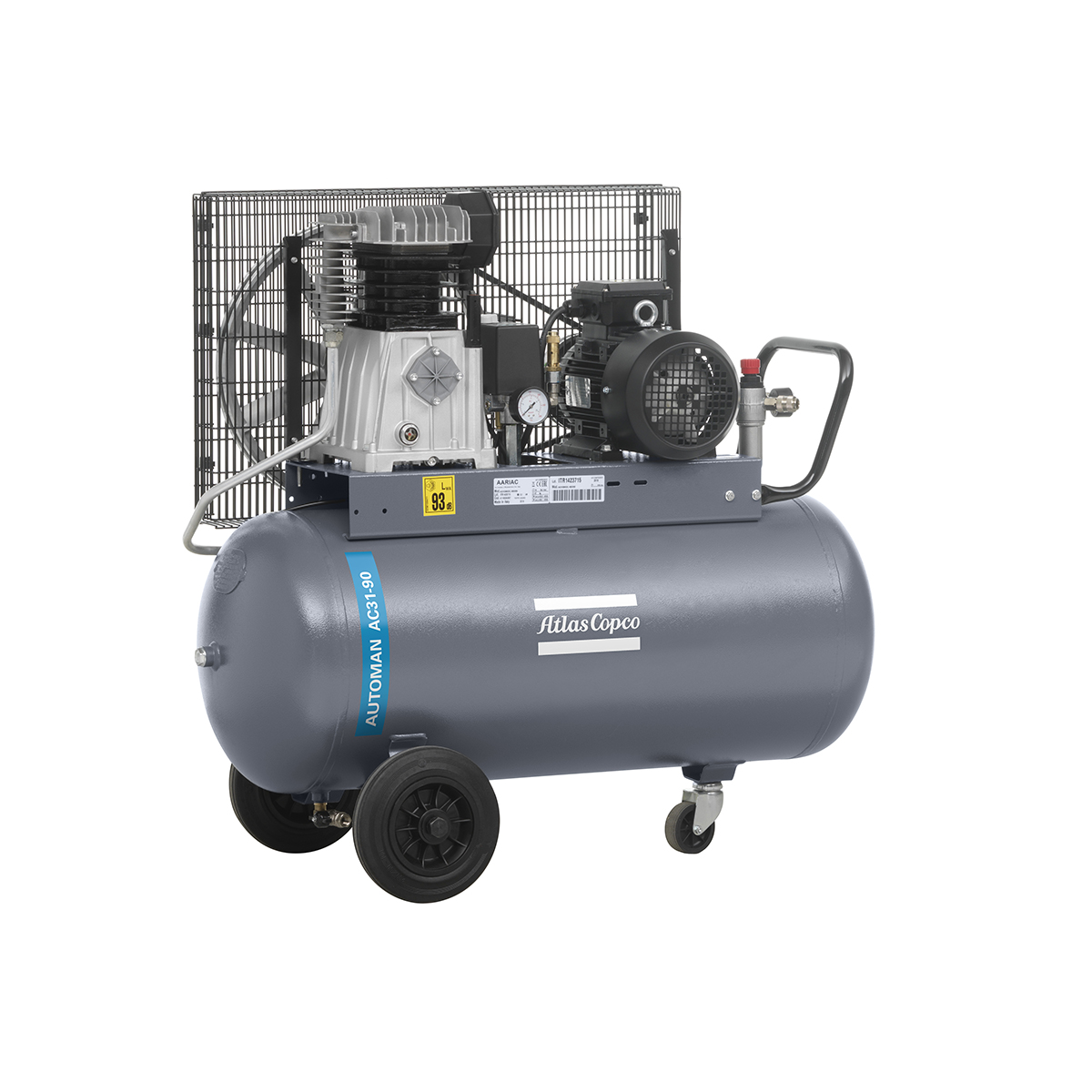 Selection of Air Receivers
27, 50, 90, 200, 270 or 500L horizontal receiver and 150 or 270 l vertical receiver as a space-saving option. This unit is equipped with 90L receiver as standard.
Pressure switch with "Off" and "Automatic operation" buttons, safety valve, cable and power plug for single-phase models.
Technical Specification
Every bit of useful information in one place
Installed Power (hp, kW): 3, 2.2 
Piston displacement (l/s, cfm): 5.8, 12.3 
Free Air Delivery (l/s, cfm): 3.2, 6.8 
Maximum Working Pressure (bar.g , psi.g) – 10 , 145 
Electrical Supply Rating (Amps) – 15 
Electrical Supply (Voltage / Phase) – 230V / Single Phase
Rpm: 950 
Cylinders: 2 
Stages: 1 
Receiver (l): 90 
Mass (kg,lbs) – 66, 146 
 Noise Level (dB(A)): 89
The complete compressed air package
By Atlas Copco
Automan compressors are built to provide maximum safety for the user. They require minimal space, are easy to manoeuvre, and are supplied as a complete ready-to-use system.
AC series oil-lubricated compressors are designed with a slow-running compressor block for long service life. Cast iron cylinders with low-speed pistons have traditionally been recognized for their durability. The AC range now includes a brand-new single-stage pump, with improved cooling, lower noise levels, lower running speed and increased pump displacement.
Ideal for workshops, body shops and small industrial users.